List of 10 Restaurant that are most popular with international visitors in Ho Chi Minh City has luxury restaurants: La Villa French, and popular restaurants like Bun Cha Bui Vien.
1. Noir
Address: 180D Hai Ba Trung, Street, District 1, Ho Chi Minh.
Delicious food, friendly service team, Noir is loved by foreign tourists by unique style. This is the first restaurant in the dark of Vietnam, giving diners many interesting experiences.
2. La Villa French Restaurant
Address: 14 Ngo Quang Huy, Thao Dien, District 2, Ho Chi Minh.
With a villa design, a lovely garden and swimming pool, La Villa French restaurant  offers a cozy, romantic atmosphere. It is an ideal choice for a dinner. The dishes are prepared in French style, using local ingredients. At the end of each meal, the chef came to each table to greet and see if the guests were satisfied with the food. It is quite crowded on the weekend, you should book in advance.
3. Bun Cha Bui Vien
Address: 145 Bui Vien, Pham Ngu Lao Ward, District 1, Ho Chi Minh.
This small restaurant is rated by many foreign tourists as "capable of being addictive", with affordable price and good food quality. Many people are not afraid to give up waiting to enjoy the fragrant grilled patties with sweet and sour fish sauce.
4. Hum Vegetarian
Address: 32 Vo Van Tan, P. 6, District 3, HCM City
Located right next to the War Remnants Museum, this vegetarian restaurant offers guests a pleasant experience in a cozy atmosphere with a classic design.
5. Cyclo Resto Restaurant
Address: 6/28 Cach Mang Thang 8 Street, Ben Thanh Ward, District 1, HCM City.
This simple design restaurant is loved by international visitors for the quality of food, service style and price. Cyclo Resto gives diners the traditional Vietnamese dishes presented in a new, appetite.
6. 
Baba's Kitchen
Address: 274 Bui Vien, P. Pham Ngu Lao, District 1, Ho Chi Minh.
Considered as one of the best Indian food restaurants in the city, Baba's Kitchen has a professional, dedicated team. It is almost service food Indian. If you are fan of Indian culture, It is the best choice for you.
7. Le Padam
Address: 230 Nguyen Van Huong, District 2, Ho Chi Minh
If you want to enjoy a meal with bread, cheese and wine, this is the ideal destination. The restaurant owner is willing to help the guests choose the cheeses and wines used with the freshly baked bread, with many interesting variations.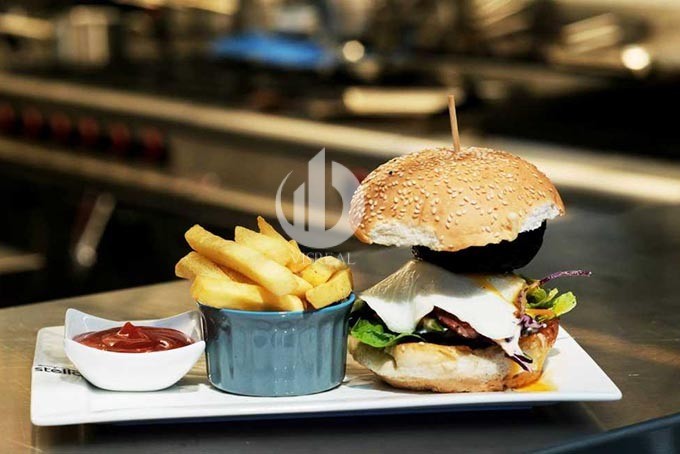 8. Saffron Mediterranean Bistro
Address: 51 Hai Ba Trung, Ben Nghe, District 1, Ho Chi Minh City
With a unique décor, Saffron serves the best Greek and Mediterranean in Ho Chi Minh City. You have many dishes to choose from, with the right wines.
9. Ichiban Sushi Vietnam
Address: 204 Le Lai, Pham Ngu Lao Ward, District 1, Ho Chi Minh
Sushi and seafood in this restaurant are very fresh and deliciuos. The price is quite high. It is commensurate the quality of food and service here. I am sure you be like this restaurant.
10. 
Soul Burger
Address: 4 Phan Boi Chau, Ben Thanh Ward, District 1, Ho Chi Minh
Many international tourists come here to confirm that they will definitely come back to enjoy the delicious burger.With a simple and friendly space, this is the attraction of returning guests here.
 If you want to go Ho Chi Minh to enjoy all list of restaurant, but you do not know where you stay. Visreal Apartment For Rent can help you.