When you hear market, people will immediately think about shopping. But this new trend in Saigon will make you feel fun: Street Food Market. If you want to eat in the past, you have to roll each shop, now all the shops focus on one place, you just is to take a round find a lot of food. It sounds like a food court in commercial centers, but more convenient, more comfortable, and of course cheaper.
1. Ben Thanh Street Food Market
Ben Thanh street food market has many advantages, one of which is the location, both in the center and the very spacious area, from the dining area to the stall area to make customers feel comfortable. You can immediately feel the sweet aroma of the typical Vietnamese dishes, around and around many strange languages, different faces and skin colors, but all together sitting at the same table, sharing a very bustling atmosphere.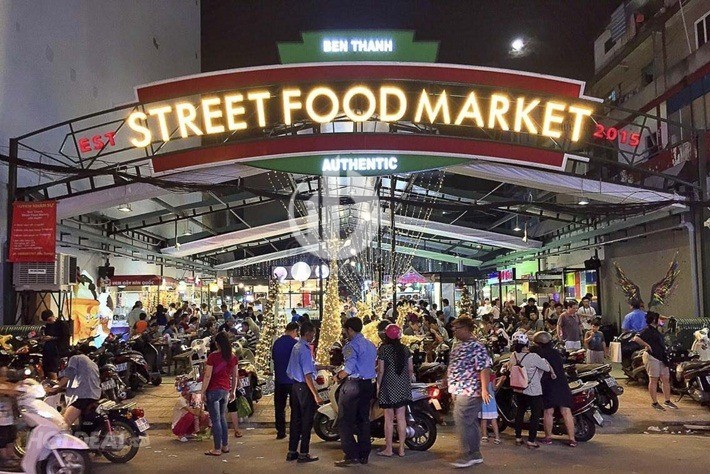 Another plus of this brand-new food market is the space, in addition to being spacious and comfortable, the decoration here is quite good with the new trend of young people with colorful graffiti walls or tables and chairs. 
With so many plus points, it is easy to understand Ben Thanh Street food market immediately actract people after just opening. Serving a lot of tourists, the price of food here compared to the common ground when eating out of the restaurant is a little bit better, but with the utilities here, it is not trouble, right?
2. Xom Nha La Street Food – 82 Nguyen Hue, District 1
It is anticipated that it will be heartfelt for snacking lovers with a dozen of ice cream stalls, any tea, milk tea to be sold in a lovely decoration. Inspite of not grandiose as Ben Thanh Street food market, it is enough for the young people to stop after walking on the streets to get bored.
The highlight of Xom Nha La is the youthful and colorful space like the café, the location is right at the street walking Nguyen Hue. You can go to select any dish, charge and then go to the dining area to enjoy, finish eating also do not forget to clean your seat to avoid disturbing people coming later.
Although there is no shortage of ice cream or tea shops on the pedestrian street, but these interesting dishes are gathered together in one place, right? If you look at it, you can see that the pastel and ice cream ice cream has just appeared here. Hard to go into the deep stalls can find some other salty dishes such as banh khot or bun bean quickly save hunger after a long walk on the street.
3. Coco5 – Bangkok Street Food Market – 68 Nguyen Hue, District 1
It is a destination for Thai food lovers, Coco5 sells all kinds of Thai snacks, from savory to sweet, from familiar dishes that belong to the name of Vietnamese youth to the dishes is strange. Coco5 followed the street food market model as each dish was sold in a separate stall, the stalls were beautifully decorated in traditional style.
From the outside, Coco5 is quite modest with about 4-5 stalls. However, this is just a place to sell "take away" sweets, hard to get inside, Coco5 has a large area with salty food and tables and chairs for guests to enjoy. Of course, they are decorated "ton sur ton" very sparkling.
Food and beverage prices here are also cheap in comparison with the expensive ones in Nguyen Hue center. Only 30.000-50.000VND / dish, staff here are also very friendly when ready to introduce you to each dish or take you to the inside. You can also stand at the counter to buy and watch the waiter make his own food, look delicious from the wait.
With dozens of convenient advantages like that, the street food market model like this will definitely soon be replicated and become familiar with Saigon youth and tourists.