Hoi An is an ancient Vietnamese town, located at the confluence of Thu Bon River in the coastal plains of Quang Nam Province, about 30km south of Danang. Hoi An has been known in the international market with many different names such as Lam Ap, Faifo, Hoai Pho and Hoi An.
Hoi An is the only type of traditional Southeast Asian seaport in Vietnam, rarely found in the world. Hoi An retains almost intact over a thousand architectural monuments such as streets, houses, convention centers, communal houses and pagodas. Ancient temples, ancient wells, ancient tombs … The architecture has both traditional Vietnamese art and shows the cultural integration with Eastern and Western countries. Over the centuries, customs, rituals, cultural activities, beliefs as well as traditional dishes are preserved and preserved along with generations of the old people. Hoi An also has a natural environment, peaceful with small villages, lovely crafts, such as carpentry, bronze, pottery …
The ideal time to visit Hoi An is from February to April, at this time it is rainy, pleasant weather. There are two distinct seasons each year: the rainy season lasts from August to December and the dry season is from January to July, with occasional cold winters but not deep and not lasting. See more information needed when traveling Hoi An.
If possible, visit Hoi An on the 14th lunar month monthly to attend the Old Quarter. On this occasion you will have the opportunity to listen to traditional songs, play folk games and enjoy delicious food, especially to see the red lanterns flashing across the street, is true. An occasion not to miss!
Tranpost
From Da Nang City to Hoi An there are two directions. One is to follow Highway 1 to the South about 27km to Vinh Dien road and then turn left for another 10km. Hoi An by Huynh Thuc Khang Street can visit Bang Anh Cham Tower in Vinh Dien.
The second road is closer, absent, from Da Nang center cross Han river bridge, to Da Nang – Hoi An provincial road, visit Ngu Hanh Son, to Hoi An about 30km.
Most tourists to Hoi An from Da Nang. From Da Nang to Hoi An about 30-40 minutes, you can come by car or taxi or private car. The shuttle service from the airport to Hoi An Hotel is about 200 thousand-250 thousand / one way.
Visit location
Quan Thang ancient house
It is one of the most beautiful ancient houses in Hoi An today. The house is more than 150 years old, with architectural style in China. Over the years, the house is still preserved in the status quo of architectural style and interior decoration, to help us visualize the way of life of generations of business owners in the business class. Hoi An port before. It is known that all the architecture and sculpture wood is very lively, exquisite of this house are made by craftsmen Kim Bong carpentry village.
This is a major attraction in Hoi An's journey to discover the world cultural heritage of visitors.
It is a typical of the type of duplex on Tran Phu and Nguyen Thai Hoc. This house is one of the oldest houses in Old Town. Step into the house, can see many architectural features of Hoi An. That is the type of "passerby" in the structure of the main roof, is a small space with a roof overlooking the sky with the "bargain" is decorated beautifully. Facing the sky is the roof of the shell. Walls surrounding the courtyard are decorated with beautiful Chinese ceramics, animal-shaped decorations, scenery along with the peninsula have turned this place into a masterpiece.
Hoi An Pagoda
Ong Pagoda, located at 24 Tran Phu Street, also known as Guan Gong Temple, was named Han Chen Han, was the Minh Huong Minh people settled in Hoi An and Vietnamese built in the middle of the 17th century, Three Kingdoms are Quan Van Truong (Quan Vu), to praise, praise, praise his sense of temperament, temperament.
The entire temple consists of four buildings, a vestibule, two chambers, and a large square. The four towers are built in brass and architectural style, with overlapping structures, unique roof and roof tiles, Dragon decorations. The main hall set up statue Quan Van Truong general, wearing embroidered dragon embroidered with diamonds, facial expressions bright, sharp eyes that shimmer forward. The statue also has 2 statues Chau Thuong, Brave, brave and loyal Guan Guan statue Guan Zhong; Two horses worshiped in real horses, the left is a white horse, the right horse horse – horse that Van Truong very precious to Cao Cao. Standing in front of these statues, visitors can not help but praise the meticulous hands of the meticulous craftsman of ancient times.
At present, in the temple there are many sea lien, lacquered, ordained, stone beer and ancient artifacts, especially save the poem about the bays of Xuan district publicity Nguyen Nghiem (father of the great poet Nguyen Du And two paintings by Uông Si Cu and Nguyễn Lệnh Tân and the parable of Nguyen Nghiem. These articles were made in 1775, when Xuan District deputy general Binh Nam troops stationed in Hoi An. It is a historical vestige dating back to the antiquated Trinh-Nguyen period in Cochinchina from the 18th century to today.
Quan Cong Mieu was awarded with the National Historical-Cultural vestige on November 29, 1991.
7 acre coconut forest
7 acre of coconut forest is located in village 2, Cam Thanh commune, Hoi An. The ancient town is 3 km to the east, there are about 7 kinds of coconut in the East, so named for 7 coconut forests, it has nearly doubled. Forest is a mangrove ecological area near Cua Dai, so it is rich in plants and brackish water.
About 3 km east of the old town, there were about seven samples of coconut water, so named seven coconut forests, which have grown to nearly double. Forest is a mangrove ecological area near Cua Dai, so it is rich in plants and brackish water. As the tides rise, fish, shrimp, crab, … focus on feeding, the birds multiply. When the tide has drained to the small creeks, the shallow water, the animals rushed back and forth to seek refuge. The coconut leaves soaring, the small boats carrying tourists as if drifting in the midst of inspirational green, help people temporarily with the hardships of hard labor, preparation for the new working days.
This is also a revolutionary base famous, unique in the war associated with the local ecological environment of the river.
Cu Lao Cham
Located about 25 nautical miles (10 km) from Hoi An, Cham Island is only about 15 km2 wide, there are nearly 2,900 people, living as isolation from the mainland. Perhaps so the scene here still retain the gentle, pure and tinted color, prompting visitors to explore.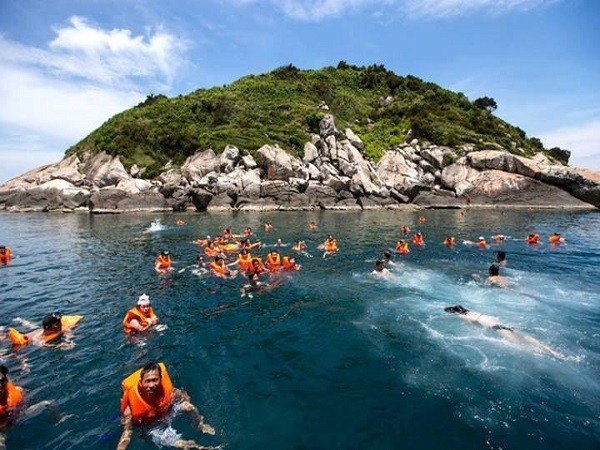 The island's vegetation here is diverse with green trees surrounding the island of Lao, Long island, Hon Chong, Hon Yen … In particular, visitors can feel and participate in activities, harmony Into the rustic lifestyle of the fishermen of the island. The tour begins at 8am, departing from the Great Gate, the destination is Bai Beach – a wild, deserted beach with white sand, trees and clouds, like a small oasis.
On the island there are interesting attractions such as locksmiths – a large lake, people are exploring to hide in the boat when the rain storm; Have more than 100 years of history … At the Ong hill, visitors can mix into the exciting atmosphere, try the game with attractive attractions such as flying umbrellas, banana boats, windsurfing, motorcycles country.
Thanh Ha Pottery Village
Originated Thanh Hoa, Thanh Ha pottery village was formed in the late 15th century and flourished along with Hoi An town. Thanh Ha pottery is made from clay raw materials mainly by the hands of skilled craftsmen and traditional techniques of the village.
Originated from Thanh Hoa, Thanh Ha pottery village was formed in the late 15th century and flourished along with Hoi An port in the following centuries. Thanh Ha pottery is made from clay raw materials mainly by the hands of skilled craftsmen and traditional techniques of the village. Main products are daily life utensils such as cups, bowls, jars, jars, vases, bowls, shapes of animals … with many designs and colors. Especially lighter than other similar products of other localities.
Until now, Thanh Ha pottery village still exist and handicraft production with traditional means and techniques. Because of this, Thanh Ha pottery village has become a living museum, a valuable resource for scientists to study and study traditional pottery in Vietnam as well as in Southeast Asia in general.
Thanh Ha Pottery Village is located on the bank of the Thu Bon River in Cam Ha Commune, Hoi An Town, about 2km west of the Old Quarter. Visit the village, in addition to the choice of pottery souvenirs, visitors also witnessed the skillful manipulation from the hands of talented artists of this village.
Hoi An Museum of Cultural History
The museum was established in 1989, exhibiting over 212 ceramic, porcelain, bronze, iron, paper, wood, etc. related to the development stages of Hoi An – Sa Huynh (from the beginning of the second century AD), followed by Champa culture (Century II – TK XV) and Dai Viet culture, Dai Nam (TK XV – XIX).
Located at 10B, Tran Hung Dao Street, Hoi An, with archaeological artifacts discovered in the river bed, sea level, on the ground, both in the old quarter and suburbs, Museum of Cultural History has evidenced the historical process of formation , The development of Hoi An land. Particularly, the artifacts of the Dai Viet period (from the late 15th century to the mid-nineteenth century) displayed at the museum partly spoke of Hoi An's role as an international trading center in Tonle. In – Vietnam and in South East Asia.
Every year, the Museum welcomes nearly seventy thousand domestic and international visitors. The Museum is open all day of the week, and the 25th of the month is closed for professional work.
Culinary
7 dishes make Hoi An cuisine
Com Ga ( chicken rice )
Hoi An chicken rice eye-catching with the color of rice, raw vegetables and chicken. You can call the plate of chicken ripped chicken, chickens cut a price 40,000 people or call the ration of chicken, rice, soup … when the group.
Cao Lau
A tall high floor consists of noodles that have passed through the boiling water, add a little bit of medium price and can not lack vegetables of Tra Que village. Above slices of sliced ​​pork, crispy pork. You can eat high floors everywhere in Hoi An, most famous is high floor Thanh in Thai Phien, high floor of Mrs. Be in Tran Phu.
Banh Mi Hoi An
This is the food most people try when coming to Hoi An. Bread with basic ingredients including pate, barbecue, pangolin, herbs and special sauce. The two most famous bakery shops in Hoi An are often referred to as Phuong bread and Madam Khanh bread.
Thit Xien Nuong Hoi An ( Grilled skewers )
From Tran Phu Street to the corner of Le Loi Street, Tran Hung Dao Street, Bach Dang Street, visitors can easily find aromatic barbecue. The charcoal grilled on a charcoal stove is still hot in a layer of thin rice paper, wet cake, herbs, pickles, cucumbers and dots with specially prepared sauces.
Banh Đap
A slice of rice cake consists of two grilled cakes on hot coal sandwiched with a wet cake in the middle. When eating, you have to spread out the hand, smashing down for the crumbled crumbs, after ripped off each plate, rolled up like a roll and then fish sauce. This is a sauce made from sugar, onion, minced pineapple, garlic and green chillies.
Banh Beo Hoi An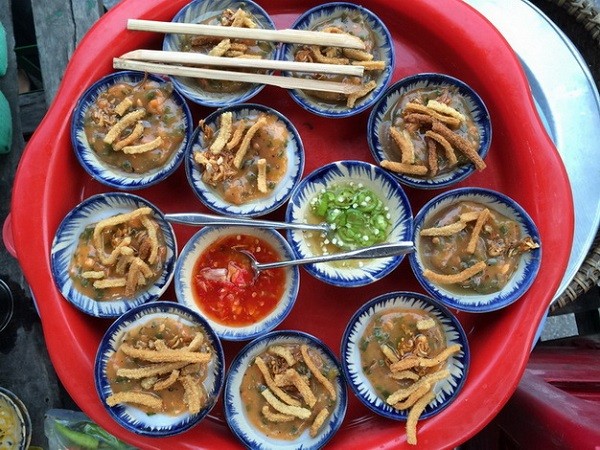 Banh Beo Hoi An are usually placed in small cups, with prawns and pork loin on top. Diners often chili paste sauce and then enjoy. The small shops in Cam Chau, Cam Nam or Hoi An market are chosen by many visitors.
Tao Pho
Traveling along the Hoai River in the evening, you will see many street vendors selling a lot of food. Eight bowls of pure ginger juice, white jelly, coconut milk, is a cool, sweet food.
Shopping
In Hoi An there are many things to buy such as lanterns, silk, wood carving, embroidery, souvenirs, clothing …
Clothing
In Hoi An there are many tailor shops with all kinds of fabrics for visitors to choose from. Guests can order on arrival and receive within hours, even if tourists prefer to order in Hoi An can leave a measurement and address, the store will send the product to the place. traveler. The price of garment services in Hoi An is not higher than in other places.
Art picture
On the streets of Hoi An there are numerous paintings, materials, techniques and compositions.
 Handicrafts
In Hoi An there are many handicraft items such as hand embroidery, paintings, lanterns, bamboo carving, ceramics, carpentry …
Lantern:
Hoi An lanterns are also very beautiful, many tourists have chosen and brought as gifts. Price is also cheap.