Hoi An ancient town welcomes visitors from the world with the characteristics of the colors of nostalgic colors but it is still attractive. The attraction of the old town over the years has not changed. Many tourists wonder how they can go here? Compilation transportation when you stay at Hoi An for travel in order to get the perfect trip? Let me show tips for you.
How do you go to Hoi An?
Currently, there is no airport in Hoi An and no train station be able to directly travel by plane or train. Tourists choose Da Nang to make a temporary stop to be able to continue their journey to Hoi An. Stop at Danang, domestic and foreign tourists have many choices.
Visitors can choose plane to save time. If you travel from Saigon or Hanoi, it only takes about 1 hour to reach Danang. Da Nang Airport has the majority of routes to countries. If you want to save money, you can choose to go to Danang via train or car. Although the travel time is quite long, visitors can enjoy the majestic scenery on both sides of the road.
There are many transportation to get from Da Nang to Hoi An. Tourists can rent a motorbike to be free during the trip. Tourists can take a bus, from Da Nang every 20 minutes, there is a bus to Hoi An – Da Nang. In addition, visitors can choose to travel by taxi. Only 1 hour mineral loss from Da Nang, visitors can come to Hoi An ancient.
Stop at Hoi An, how to go to everywhere?
Walking
Walking is the most chosen form when traveling to Hoi An. Hoi An is small and does not need a map, it seems that only indefinite steps can be taken, visitors can admire the whole landscape here. Every small corner in Hoi An, contains the soul of Hoi Hoi city. Most of the central streets of Hoi An organize walking streets for tourists, prohibiting vehicle.
Bicycle
Bicycles are a popular transportation for tourists when they come to Hoi An. At Hoi An, visitors can easily see images of bicycle rental shops. With relatively cheap prices, visitors can go around Hoi An for a long day. Visit Hoi An by bicycle, you can visit tourists to further locations such as Tra Que vegetable village or Thanh Ha pottery village.
Motorbike
Many tourists choose to move by motorbike. It is easy to be proactive in traveling as well as from Hoi An to visit other nearby scenery like Hue or Da Nang. Come to Hoi An, if you choose to visit by motorbike, it should be noted that the streets prohibit vehicles from traveling in the time from 9 am to 11am, from 3 pm to 10 pm.
Pedicab
One of the most popular vehicles when you come to Hoi An, it is pedicab. Travel at Hoi An, visitors will feel the slow, peaceful life of ancient Hoi Hoi street, it will be the common feeling of tourists when they choose pedicab. Not afraid of rain, not afraid of sunshine, you will hear the legend of the Hoi An famous places by pedicaber. Indeed attractive.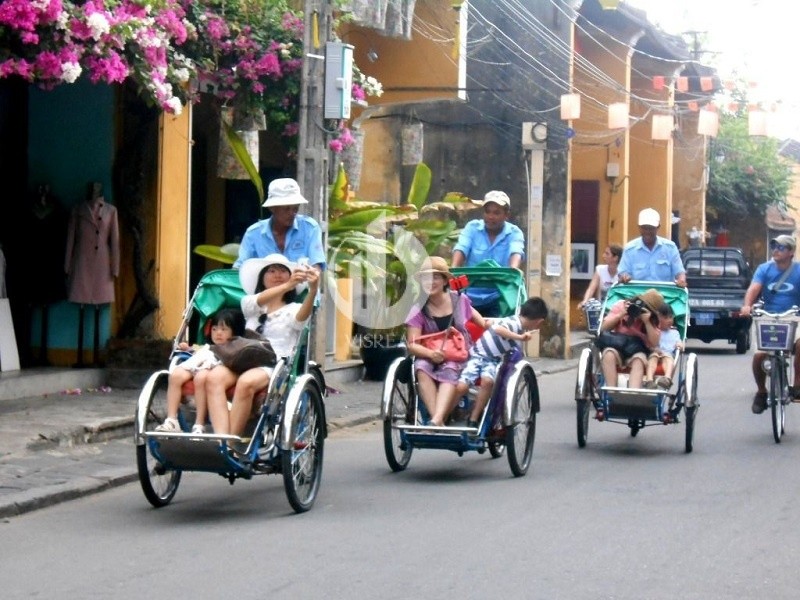 Boat
With the peaceful Hoai river flowing beside the old town at Hoi An, visitors can sit on boats, small boats visiting Hoi street. Floating on a small boat, dropping sparkling flowers floating in the flow, watching a shimmering Hoi An by the lighthouses, or thousands of bright lanterns will be a difficult experience forget with visitors at night. At the same time, from Hoi An, visitors can go to Cham Island to visit by cano or wooden boat.
This is answer for transportation when you stay at Hoi An for travel.  It seems come here by train or plane, visiting by bike or walking, each choice gives visitors a different view of beauty in Hoi An. It is made people will fall in love and back Hoi An again.