Hon Rom beach – one of the best tourist destinations in Mui Ne. Hon Rom is not an offshore island, but a small mountain still untouched, located in Long Son hamlet, Mui Ne ward, Phan Thiet city. Because it has not been exploited, the landscape here still retains the pristine beauty of nature. Coming to this island, visitors will have unforgettable experiences.
About 28 km from Phan Thiet city, Hon Rom is considered as a beautiful island near the shore, connected to the mainland by a narrow strip of sand. Hon Rom is a highlight in the 17 km stretch of beach. Therefore, the beach in Rom is always the most popular tourist destination in Mui Ne.
Sunrise Hon Rom
The name of Hon Rom is derived from the image of an island when viewed from afar. During the dry season, the grass on Hon Rom is especially yellow. From the sea, local fishermen saw the mountain like a giant pile of hay, they named the island Hon Rom. The scenery in Hon Rom still retain the pristine beauty and charm of nature.
While the southwestern of Hon Rom island is a beach with beautiful white sandy stretches, the west coast of Hon Rom is a rock with many different shapes very special.
Standing on the Hon Rom looking westward, visitors will see white sandy hills like desert, looming points adorned by low bushes and cacti. These highlights make the landscape of Phan Thiet and the sea more rustic and charming.
Being the leading tourist destination in Phan Thiet, Hon Rom is the beautiful beaches, attracting a large number of domestic and foreign tourists here every year. The famous beaches in Hon Rom are: Hon Rom 1, Hon Rom 2, Thuy Trang, … It is always crowded visitors to bathing, playing, entertaining quite bustling. With smooth and slightly sandy sand, Hon Rom have become a famous tourist destination every time of the holidays.
If you want more adventurous travel, you can travel off Hon Rom – Mui Ne with local fishermen. You will have the opportunity to catch fish and enjoy the feeling of being a true fisherman. This will be the most memorable experience of every visitor in the journey to the beaches of Mui Ne – Hon Rom.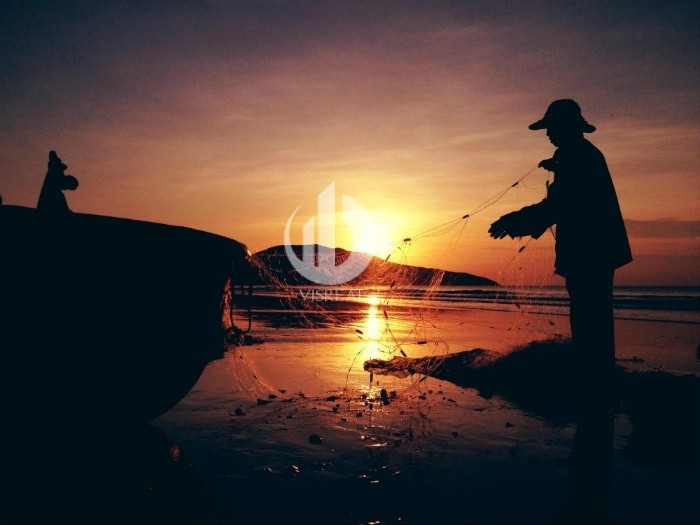 That's great, isn't it! Sea of Hon Rom deserves to be one of the most charming beaches in Mui Ne. So let's go to Hon Rom beach to feel the peaceful life in this prosperous place!