The Estella Heights Apartment For Rent- Singapore in Ho Chi Minh City
GENERAL INFORMATION
Project Name:  Estella Heights Apartment  (Phase 2 of the project Estella)
Owner: real estate group Keppel Land (Singapore)
Location: 24 Street, An Phu Ward, District 2, Ho Chi Minh City
Land area: 47 906 m2 (total in 2 stages)
Construction scale: 2 blocks combined commercial center apartment 35 floors high front and rear 2 Block apartment 33 floors with swimming pool in the middle.
Duration of ownership: long-term ownership with Vietnam, possesses 50 years for foreigners
The Estella Heights Apartment belongs to Keppel Corporation, one of the largest multinational corporations in Singapore.
Live atop an exclusive integrated development. Indulge in an exciting array of retail and gastronomic treats. Shop for your favorite brands in the five-story retail podium and stock up your groceries at the supermarket. Bond with your kids at the outdoor playground or relax at the spa at the beauty and wellness center – there is simply so much to see and do every day.
In existing projects of the region, Estella Heights Apartment for rent is getting more attention than those of surrounding projects. Customers visiting the apartment almost fascinated by the design with the bold resort with many green spaces, amenities harmonious layout. not only that, according to Singapore's design trends each apartment has a balcony to catch the wind getting special attention from customers.
Recently, during a special event held by the investor Keppel Land and marketing agent CBRE, guests have introduced 10 exciting reasons to choose Estella Heights is his nest:
Prime location
Infrastructure improvement
The international education within reach
Modern Residential Community
A class living environment with full facilities, utilities
Parking is rate 1/1
View and stunning river
Design a reasonable space, efficient and spacious
Electrical redundancy and security 100% smoothly
Investor reputation
PRIME LOCATION

Estella Heights Apartment is located in the center of District 2 with essential amenities such as international schools, shopping malls, supermarkets and food and beverage outlets. With excellent connectivity to the CBD (only 15 minutes), and boasting spectacular views of the Saigon river, Estella Heights Apartment is a luxurious Ho Chi Minh City property that enjoys the most desired address and is also a golden opportunity for investors and buyers who want to own a luxury, world-class apartment at a reasonable price.
It just takes:
15 minutes drive into the city center.
5 minutes drive to the prestigious International School: AIS, ISHCMC, BIS.
2-5 minute walk to Parkson An Phu, Lotte Cinema, Metro.
In recent years, District 2 has become the focus of the HCMC real estate market. A majority of high-end apartments are located in District 2 due to its good location and well-planned infrastructure and good connectivity to the CBD and other districts, yet still being attractively priced and offering good value for money.
Grade A & B projects account for as high as 75% of projects in District 2. These high-end projects are favored due to their full range of inner and surrounding facilities. This contributes in part to higher property values as well as District 2's strong performance.
MASTER PLAN
A modern and contemporary enclave, The Estella Heights Apartment is a remarkable creation from the region's leading developers.
A high-rise condominium comprising 719 units with 2/3 bedrooms apartments and 4 bedrooms penthouses, The Estella Heights Apartment puts new meaning to the world luxury. Surrounded by exciting amenities, this prime residential site is found within a gated community offering its residents absolute exclusivity.
GUARDHOUSE
MAIN ENTRY
VISITOR DROP-OFF
CASCADING WATER FEATURE
INTERNAL DRIVEWAY
BASEMENT CARPARK ACCESS
LAP POOL
CHILDREN'S POOL
POOL DECK
OUTDOOR FUNCTION DECK
TENNIS COURTS (SUNKEN)
LANDSCAPED GARDENS
PARK CONNECTOR
ENTRY POINTS
PEDESTRIAN ENTRY
CHILDREN'S PLAY AREA
BBQ AREA
The Estella Heights Apartment offers numerous unit layouts to suit your needs and lifestyle. Apartment sizes range from 98.3 sqm to 188.5 sqm (excluding penthouses).
Layout Tower 1
Layout Tower 2
Layout Tower 3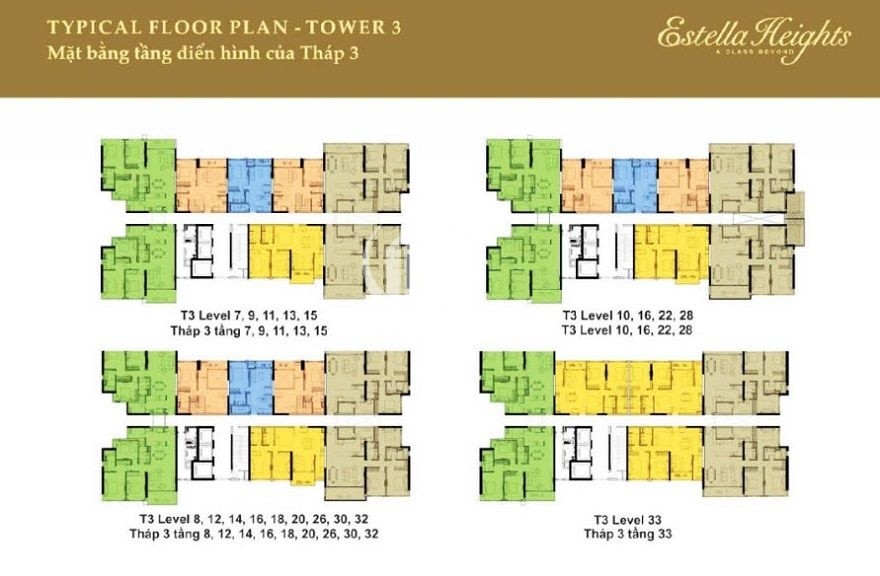 Layout Tower 4
CONVENIENCE
A modern and contemporary enclave, The Estella Heights Apartment is a remarkable creation from the region's leading developers. A high-rise condominium comprising 719 units with 2 / 3 bedrooms apartments and 4 bedrooms penthouses, this prime residential development is surrounded by exciting amenities and is found within a gated community. Gain peace of mind with round-the-clock security along with 100% power backup. The Estella Heights Apartment gives new meaning to the word luxury.
Estella Heights Apartment is a condo project Estella Heights construction was completed in 2012. Units range from studio to 4 bedrooms. Estella Heights at An Phu, District 2 has the following facilities: air conditioning, bbq area, CCTV, fitness, parking, playground, security, swimming pool, tennis, and wi-fi. Local amenities include hospitals such as  Seoul Oriental Medical Clinic, schools such as Blue Sky Lexington, Gracie Tran's Cat Kindergarten and Wisdomland Preschool, shopping centers such as Kenli Funiture store and VIA Solutions Co.ltd, restaurants such as Jeonsulbab AnPhu and Jeon Sool Bab,
Facilities at Estella Apartment:
Enter The Estella Apartment to discover a tranquil environment. Let the vast and lush landscaping within The Estella soothes you. Extend your leisurely stroll into the 7-hectare public park right behind The Estella.
Enjoy a playful evening with your children in the big playground or have a delightful conversation with your neighbors over a barbeque.
You could get into a competitive spirit with your friends over a tennis or in the 50-meter lap pool. Alternatively, have a quiet workout with your peers in the outdoor fitness area.
The Estella Apartment affords you a healthy and luxurious lifestyle. Live your dream
Interior of Estella Apartment:
The luxurious apartments of The Estella are all entirely fitted with quality finishes and fittings known for their design and functionality. The Estella also offers a selection of impressive apartment layouts ranging from 100sq.m to 260sq.m. The perfect home that you have always wanted awaits you here at The Estella Apartment.
The kitchen cabinets, air conditioning and water heater to bring international standards to be installed in the apartment.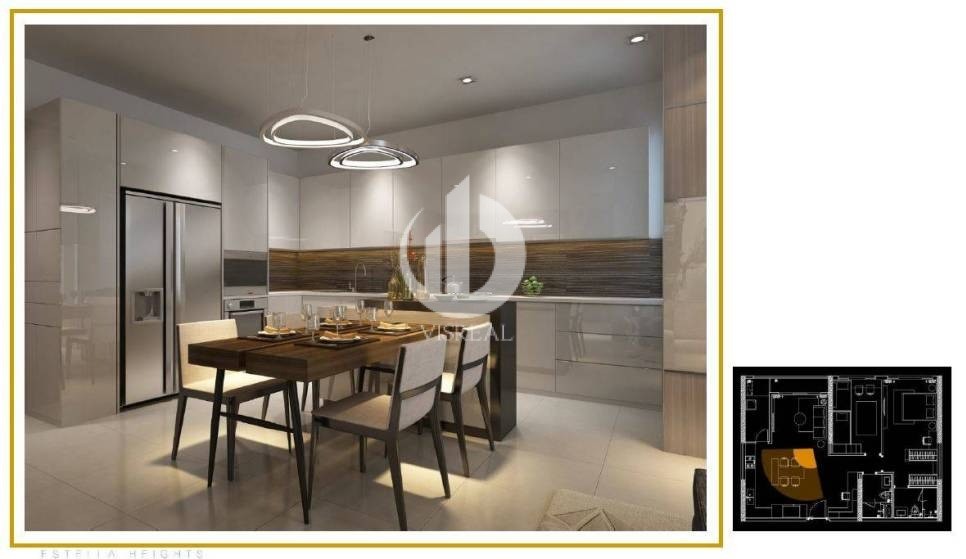 Balconies for apartments with one side wall glazing increased natural light to the room. Green campus living space for the unique resort.
Separate living space with 24/24 security services and power supply support.
With 850 apartments with 1, 2 and 3 bedroom villas to aerial 4 bedrooms, apartments Estella Heights is surrounded by an attractive utility and located in a secluded community, were security 24/24 and backup power systems. Convinced that customers are interested in Estella existing apartments will continue to receive the Phase 2 project
Amenities
+ Swimming pool
+ Gym
+ Basketball court
+ Children's playground
+ Coffee shop
+ Restaurants
+ Backup power
+ 24/7 security
+ Excellent facilities
+ One of the nicest building on An Phu side
+ Landscaping
+ Good layout
+ For families, professionals, and singles
RENTAL FEE
The scale of construction: 4 blocks high apartments 33-34 floors with 872 apartments
1 BR size 59.5m2                                                                  :at from 650 USD
2 BRs size: 89,4m2 – 102,1m2 – 104,5m2                        :at from 850 USD
2 BRs with working area size: 129.4m2 – 130.6m2       :at from 1000 USD
3 BRs size: 130.2m2 – 150m2                                            :at from 1500 USD
4 BRs apartment size: 179.8m2                                        :at from 2500 USD
Penthouse area: 300m2 – 350 m2                                    :at from 3000 USD
Please Contact us to arrange an appointment
Phone: ‎(+84)903004226 ( Ms.Helen)
Email: helen@visreal.vn
Office: 1F- N.G.E Building, No. 292 Ung Van Khiem Street, Binh Thanh.Dist, Ho Chi Minh City