Masteri Thao Dien For Rent – Bring you comfort and satisfaction.
LOCATION
Masteri Thao Dien For Rent is a smart investment choice for foreigners. Located at the center of Thao Dien Ward, District 2 facing the Ha Noi Highway. The project provides easy access to District 1 and main routes to get to anywhere in the city. Masteri Thao Dien's residents may soon board the metro line, which will conveniently reduce transportation time to travel anywhere in the city.
Connected with station no. 7 on the An Phu Metro line 1, it will take only 5 minutes to get to District 1 and near the Saigon River. A constant breeze will be available in most units, and along with the stunning views.
Masteri Thao Dien For Rent synergizes a modern and vibrant lifestyle with the serenity. One's standard of living is elevated to new heights when living in one of our units.
Easy access to the CBD and outlying Districts
| | |
| --- | --- |
| District 1 | :  5 minutes |
| Thu Thiem New Urban area | :  7 minutes |
| District 7 | : 15 minutes |
| Tan Son Nhat airport | : 17 minutes |
Convenient connectivity to neighboring cities
| | |
| --- | --- |
| Bien Hoa | : 30 minutes |
| Binh Duong | : 40 minutes |
| Vung Tau | : 1 hour 20 minutes |
The combination of modern pace and peaceful green space is the unique point of Masteri Thao Dien Apartment For Rent In Ho Chi Minh
Masteri Thao Dien For Rent was designed as a combination of living space guarantee every family can feel the cohesion of the common space (living room, common room). It still has private time in private spaces (bedroom). Apartments in Masteri Thao Dien For Rent is arranged around the hardcore to ensure transportation to the apartments is the closest. The corridor is designed as an open, take advantage of natural lighting and natural ventilation. The layout of the floor plan many different forms. Divide the flexible flat area.
Masteri Thao Dien For Rent is a high-class residential area combining trade center, service and office. It is deployed on an area of nearly 8 hectares, including 4 luxury apartment towers with a total of 3,021 apartments. One office and hotel tower and the biggest and most modern commercial center in the eastern area of Ho Chi Minh City, covering over 100,000 square meters.
The vast greenery and lakes create the most desirable point that no project can match.
Masteri Thao Dien Apartment For Rent are smartly designed with a flexible area, the directions are beautiful as Saigon River, Thu Thiem … are distributed properly to ensure all the main rooms are airy, take good natural light. To ensure privacy as well as security, the apartments on the first floor have additional private garden areas, which are separated by landscape fences. The Penthouse units are beautifully designed with spacious garden space and extensive views.
LIFESTYLES
Masteri Thao Dien For Rent is a masterpiece of minimalist furniture design style.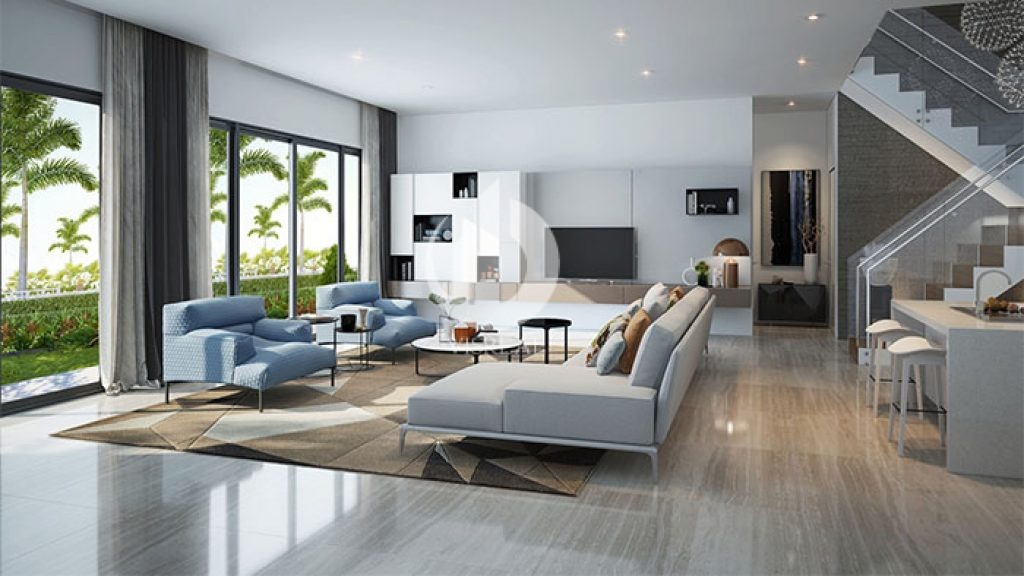 Geometric design (basic sides, angles, and curves) applied in the decoration of the whole residence including bedrooms, living room, and kitchen. In the style of simple, interior with smooth and shining surfaces that are mostly placed against the walls or the aisle sides. This designing purpose is to add a look of the neat and well-organized home, expanding more living space and generating the feeling of openness.
According to simple design style, the furniture apartment is subjected to white and neutral colors in contrast with the especially nice sparse touch of bright shade colors (yellow living-room door, yellow kitchen walls, blue bedrooms and pink beds). This innovative design style of color scheme in the apartment brings a harmony of joyfulness and positive energy to the people inside, moreover, makes them more comfortable and stay productive after a long day at work.
Moreover, the coziness and luxury of Masteri Thao Dien For Rent are formed by the utilization of wood material and lighting scheme in interior design.
The accent of wood is applicable for decoration in the overall apartment including living room, bedroom, and kitchen. Wood decorations vary from colors, exclusively to the certain area. Careful consideration is taken into the choice of furniture that must be in attractive shapes and well organized. This style is a true luxury of the apartment and an airy living space for daily life.

In combination with the main utilization of wood, the lighting system (yellow and white lights) not only ensures proving sufficient light but enhances the depth of space for the apartment also. Besides, the lighting system combines with a color of furnishing, living room and bedroom walls create fabulous light effects, balance light and dark, and heighten the liveliness for space.
Masteri Thao Dien For Rent devotes more than 60% of the area to the green park of nearly 6,000 m2 and regulating lake area of nearly 3,500 m2, creating a green space and completely separate. Living here, residents can enjoy the full nature and still enjoy the amenities of modern urban. Vincom Mega Mall Thao Dien shopping center invested by Vingroup, will be put into operation at the same time as residential areas. This will be a shopping mall with the scale of the largest and most modern commercial center in the city.
The complete utility system includes more than 90 indoor and outdoor living utilities that meet the full needs of all family members including green park, swimming pool, children's play area BBQ, gym … to serve the needs, relax and entertainment.
Masteri Thao Dien For Rent was planned on a large land area with a total area of 700,000 m2 building is expected, according to model complex includes a shopping center, office buildings, apartments and green parks.
Masteri Thao Dien For Rent In Ho Chi Minh:
– 01 BR                                                                   (50m2) from 600-750 USD
– 02 BRS                                                                (60-72m2) from 650-1100USD
– 03 BRS                                                                 (90m2) from 900-1500 USD
– 04 BRS                                                                (125m2) from 1500-2500 USD
– Duplex; Penthouse, Shophouse                     from 2000-6000USD.
We have many apartments for rent in The Masteri Thao Dien, kindly contact us by:
Phone: ‎(+84)903004226 ( Ms.Helen)
Email: helen@visreal.vn
Office: 1F- N.G.E Building, No. 292 Ung Van Khiem Street, Binh Thanh.Dist, Ho Chi Minh City